« go back
Match It!
An interactive matching game to reinforce knowledge of the words introduced in Reading Activities in prior modules
A Module 3 curriculum based activity that teaches Concentration Game 3 which are part of Reading Module 3.
Concentration Game is an online Module 3 game that helps inspire children learn, motivates them with fun and allows them to achieve higher in Reading Module 3.
Concentration Game
Create A FREE account To
Play Now!
This is a sample screenshot only!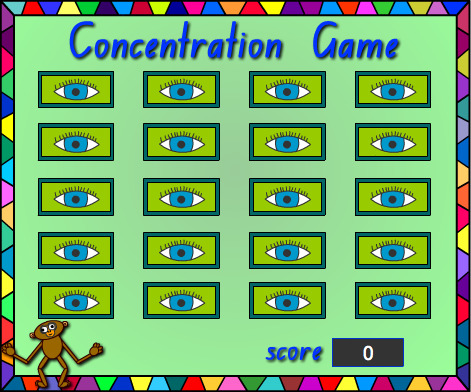 Used by over 70,000 teachers and 1,000,000+ students.
Keywords and information on Concentration Game Module 3 activity
The online Module 3 activity Concentration Game is in the bility group Blue. This activity is part of the lesson group Reading and in the focused subgroup of Concentration Game 3
This Module 3 Reading activity is 1 of 1000's of online games, worsheets and videos available to members.